CNet has been selected as one of 50 finalists for the European Commission's Innovation Radar Prize 2018 with our PICASO innovation: Federated Cloud Architecture designed for ehealth: Care Management as a Service. The Innovation Radar Prize awards high quality innovative excellence, emerging from the Horizon 2020 programme. The award distinguishes five categories with 10 finalists in each. CNet has been selected for the "Tech for Society" category, recognising technologies impacting society and citizens. The price committee examined several thousands of EU-funded innovations from across Europe, making it quite an achievement to get selected as one of the 50 finalists.
CNet was recognised for their solution within the PICASO project, "Care Management as a Service". This solution enables care organisations to use cloud technology, experience benefits of scalability and software resource sharing without violating regulations regarding clinical data. The innovation is based on a software-to-data cloud approach. All software for care management and decision support is hosted in one public cloud while all clinical data always resides inside the care organisations. All access and use of clinical data are done in a secure and authorised way, without violating GDPR. This creates an innovation in healthcare making it possible to use cloud technology while taking the specific requirements regarding clinical data into account.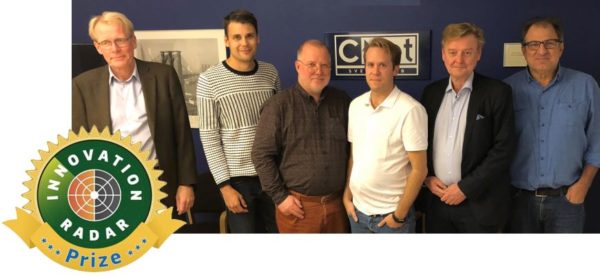 CNet PICASO team awarded 
From left: Matts Ahlsen, Daniel Eriksson, Peeter Kool, Tobias Brodén, Peter Rosengren, Stefan Paulsson.