Smart Agriculture and Food Production
From Farm to Fork with IoT
Agriculture and forestry industries are undergoing fundamental technological modifications and changes. Through the whole value chain there are new demands for increased efficiency in the production processes while at the same time a need to meet requirements from consumers for lower cost, increased quality and safe, reliable data regarding the origin and handling of the food items from "Farm-to-Fork". Automated control of farming machinery, environmental sensors to collect weather parameters, integration with sensors and farming systems to collect relevant data for traceability are some of the technologies currently being developed by CNet.
By using historical heating data such as degree days derived from IoT field sensors in combination with weather forecast, crop disease probabilities it is possible to provide farmers with adequate decision support and give advice and use of pesticides. Thus IoT can help reducing crop waste and grealty improve the efficiency and gains from the farming processes.
The Crop, Livestock and Forest Integrated system (CLAFIS) is an intelligent integrated solution for a new generation control and information systems in the agribusiness sector. CLAFIS brings together technologies, experience and research results from industrial automation, Internet of Things and agribusiness sectors.
The system is addressing needs for data transfer between complex field devices/automation systems and IT systems for several stakeholders in European agribusiness and forestry production. CLAFIS is based on a OPC UA (Open Process Control Unified Architecture) specification for communication between automation systems and IT systems in farms and forest related process. CNet is developing Big Data solutions in a secure cloud environment and a model to map farming entities to IoT resources.
The CALIS project aims at implementation of an IoT cloud-enabled Agribusiness Intelligent Information Management System, providing a platform, services and subsystems with corresponding middleware, and security and privacy architecture for process automation, data management, monitoring and control.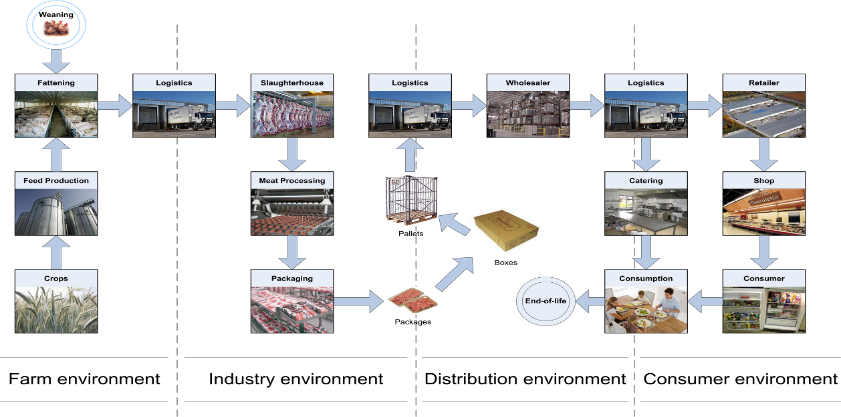 Enabling Business Based Internet of Things, Services and People are the theme of several CNet R&D activities, not only to use IoT for stand-alone sensing but to use it as an integral part of business systems.
In the ebbits project where CNet was the technical coordinator we developed a food traceability platform based on Linksmart.net and other IoT technologies including EPC Global support (Electronic Product Code) The system supports tracking of food item and collection of relevant product and process data through the entire food product life cycle. In this way we created an ecosystem for app developers to create a new range of innovative apps providing farmers, logistics companies, slaughter houses and retailers with new functions to manage and deliver food products as well as improving the end-consumer experiences.
Smart Agriculture